Dan Laney – California
I am honored to have been selected by my peers to judge at the 2023 American Dairy Goat Association Nationals in Redmond, Oregon. I am looking forward to working with the excellent team of my fellow judges also selected this year. While this is not my first time stepping into this arena, either as an exhibitor or judge, the adrenaline rush one experiences from being in the company of so many of our most outstanding dairy goats and fellow exhibitors is still there and this year is an especially notable one for me.
My first dairy goat was acquired in 1972, an AlpineXNubian named Tiger Lilly.,,an unrecorded grade. I bought her solely to provide nutritious milk for my son, Josh, who was lactose intolerant…end of my goat story. Well…hold on a second….not quite the end of my goat story after-all!
Little did I know that the decision I made to buy Tiger Lilly would lead me down a totally unexplored path and change my life forever! Tiger Lilly provided milk for Josh and so much more. Soon I was experimenting with making cheese and yogurt for the entire family. Soon I decided to join the American Dairy Goat Association and acquire registered stock, show goats..go on test..have my herd appraised, own National champions…serve on numerous ADGA committees..be elected as a Director for District 8, become an ADGA judge, serve as ADGA President for three years, fill in as interim Office Manager (Secretary/Treasurer) in Spindale for one year.. and judge shows in Canada, Mexico and Australia. The past 51 years being involved with our dairy goat industry and ADGA has been quite the ride and it's far from over!
I am also fortunate to be working with a herd of our own Saanen goats exported to Nepal, as well as teaching "best husbandry practices" to the village goat farmers and working with the students in a number of schools in Nepal, along with being involved with several other projects in that beautiful country. Soon I will have a Childrens' picture book published about the benefits of goats' milk that is set in Nepal and loosely based on my own personal experience centered around my son, Josh.
And finally, as to why judging this particular National Show is so special to me…a cut above the previous nine other National Shows….well….I will start my week with judging the LaMancha Breed. Our truly "Made in America" breed and in the region of the country where it all began…the Pacific Northwest! I was the owner of Mt Shasta Avia, a beautiful doe that was National Champion LaMancha in 1989 in LA and 1990 in Gillette. I will be a supporting judge for the Saanens, the breed I work closely with at the National Goat Research Program in Bandipur, Nepal. And I will be wrapping up this years' National Show judging the Recorded Grades…. remembering Tiger Lilly…that amazing grade goat that started it all!
Thank you for this opportunity once again and enjoy this years' ADGA Nationals set in the scenic Northwest!
Julie Matthys – Indiana
Julie Matthys is honored to be judging her eighth ADGA National Show including her third in Redmond, Oregon. She has worked with multiple breeds over the years with the herd names Dairy Delight, Mint*Leaf, and M*L Legacy and her family has had National Champions in three breeds; LaMancha, Nubian and Toggenburg. Her current volunteer activities for ADGA include being a District IV Director, Member at Large of the Executive Committee, and Chair of the National Show Long Range Committee. Julie is also a Life Member of ADGA.
She appreciates the talent and effort involved in breeding and exhibiting dairy goats at the National level and looks forward to judging the beautiful dairy goats at the 2023 National Show.
Dustin Noble – Tennessee
Dustin Noble resides in Franklin, TN where he and his wife have operated Noble Springs Dairy since 2009. They have around 200 goats and make an assortment fresh cheeses. They raise Alpine, Saanen and Toggenburgs under the herd name Noble-Springs. He and his wife, Justyne, have both raised and shown dairy goats since the early 1990s and met at the ADGA National Show in Des Moines, Iowa in 2003. He and Justyne have exhibited at several National Shows. Dustin attended his first National Show in 1996. Dustin has a degree from The University of Tennessee in Animal Science with a minor in Ag Business.
Dustin is a lifetime ADGA member and has been an ADGA licensed judge since 2003. This is his fourth time judging the ADGA National Show. It is always an honor to be selected to judge the most prestigious dairy goat show in the country and get to work with some of the best judges and see some of the best dairy goats in the country.
Kirt Schnipke – Ohio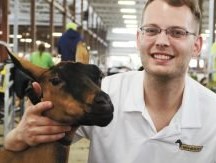 Dr. Kirt Schnipke lives in Hamler, Ohio where he raises Oberhasli, Saanens, and Experimentals under the
Ober-Boerd herdname. He is both thrilled and honored to be selected to judge at the National Show for
the first time. He's also excited to be working with the other wonderful judges selected for this event.

What started as a family 4-H project, has become a nationally recognized and competitive herd. The
highlights include breeding the 2010 and 2011 Oberhasli National Champions, as well as 2011, 2017, and
2018 Oberhasli Reserve National Champions. But the real reward has been the friendships,
acquaintances, and numerous memories he's gained throughout the years attending these prestigious
shows.

Kirt obtained his ADGA judging license at the 2006 ADGA Convention and has been judging continuously
since that time. He has enjoyed traveling the country to see different regional levels of competition,
different management practices, and different styles of dairy goat. He also has served as an ADGA
volunteer committee member within the Breed Standards, Shows, and Judges Training Assessment and
Licensing Committee.

Professionally, Kirt received his doctorate in physical therapy from The University of Findlay, and has
been a licensed physical therapist for 10 years. He has served in mostly outpatient orthopedics settings,
but the past 7 years has emphasized pediatric work within the outpatient realm. In 2019 he became
part-time faculty at his alma mater, and then in 2021 he became a full-time professor within the Physical
Therapy program at UF. He enjoys spending time with family and friends, including playing indoor and
beach volleyball recreationally.

Having attended multiple ADGA National Shows as an exhibitor, he
understands the commitment and dedication it takes for any herd to attend this premier showcase of
dairy goats. He encourages all exhibitors to take time to enjoy the fellowship and memory-making
opportunities throughout the week – and most importantly, enjoy the process and have fun showcasing
your efforts. Best of luck to all exhibitors, and have a great show!
Emily Thompson – Minnesota
Emily Thompson has been involved with dairy goats and ADGA with her family her entire life. They raise Alpines and Toggenburgs under the Kara Kahl Alpines and Legendairy Toggenburgs herd names. She grew up in rural Northwestern Minnesota, showing in 4-H, at ADGA shows throughout the Midwest and at numerous national shows, with her very first Nationals being at just 3 months old, right here in Oregon, when her dad judged his first national show.
Emily become a licensed judge at the age of 18 and has been judging for 23 years. She has loved the opportunity judging dairy goats has provided like traveling throughout the country, seeing beautiful animals and meeting so many great people. She and her sister have enjoyed co-chairing the Judges Training Licensing and Assessment Committee for the past 5 years. She also serves on the Judges, Linear Appraisal and Annual Meeting Committees.
Two major personal dairy goat highlights for their family were breeding and exhibiting the Alpine National Champion in 2021 and Toggenburg National Champion in 2018. Additionally, their herds participate in production and appraisal programs and they continue to show throughout the Midwest. She is involved in the Alpines International Club, serving recently as president for 5 years and more recently as the secretary/treasurer.
In her professional life, Emily has a degree in Public Health Epidemiology and has worked in Local Public Health since 2007. For the past 11 years, she has worked for the Hennepin County Public Health Department in Population Health and for the past 2 years as a Clinical Data Analyst for their Healthcare for the Homeless Program. In her personal life, Emily and her husband live in Rochester, Minnesota and have two daughters, Maya and Zoe, both in elementary school. They enjoy hiking, biking, cooking and just being all together. Emily is so excited and honored to be judging her first national Show.
Peter Snyder – New York
Peter Snyder is from Cowlesville, NY……a small town is western New York state near
Buffalo and Niagara Falls where he is employed as an officer for the New York State
Department of Corrections. He has owned and bred dairy goats for 53 years, currently
breeding Lamanchas, Alpines and Nubians under the BROOKWOOD and BITTERSWEET
herd names. The farm consists of dairy goats, Cheviot sheep, Maremma guard dogs,
assorted poultry and an annual, 5th generation, maple syrup harvest.

He earned his first judging license with the CGS in 1985 and then an ADGA license in
1989 which has enabled him to travel to 49 states, as well as judging many shows
throughout Canada, Mexico, Australia and New Zealand. He is an ADGA Life Member
and has served as ADGA director from District II since 1999, president of the
NYSDGBA and treasurer of his local club the Niagara Frontier DGA since the mid 90's.
He has served on several ADGA committees, including chair of the Awards committee
for several years. He was local host chair of the successful ADGA conventions held in
Buffalo in 2009 and last year 2022 in Syracuse.

This is his 6th invitation to judge at the national show and he greatly looks forward to
judging his first west coast national show. He offers congratulations to all National Show
attendees and hopes that everyone has a safe and memorable time with all the other
attendees from all over the USA.