Deschutes County Fairgrounds Expo Center Interactive Map
For Check-in instructions and a map pertaining to Check-in see Check-in >>
Deschutes County Fairgrounds Facilities Map
Penning Stall Quantity, Sizes & Prices
High Desert Activity Center (Air-Conditioned) Total: 56 Size: 10 X 10 Price: $50
Beef Barn Total: 149 Size: 10 X 10 Price: $40
Horse Barn Total: 75 Size: 10 X 10 Price: $40
Swine Barn Total: 65 Size: 10 X 10 Price: $40
Dairy Barn Total: 208 Size: 6 X 6  Price: $25
Little Hooker Creek Arena Total: 78 Size: 6 X 6 pens (attached to show arena) Price: $25
Sheep Barn Total: 340 Size: 5 X 5 Price: $20
Tent Pens Total: 60 Size: 4 X 5 Price: $15
Show Ring Stalls to be utilized by youth exhibitors, raffle kids and holding pens.
Penning Stall Descriptions
10 x 10 Stalls
All have solid lower fronts and bars at the top.
All have swinging doors, no sliding doors.
All have solid backs to stalls.
Some have solid sides, while others have sides like fronts with bars on top.
6 X 6 Stalls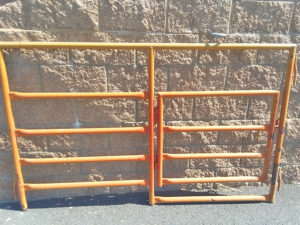 Floor to top – 3 feet 8 1/2 inches
5 rails, 1 1/2 wide
Floor to first rail & 1st rail to 2nd rail – 6 inches each
2nd rail to 3rd rail – 6 1/2 inches
3rd to 4th rail – 8 inches
4th to 5th rail – 10 1/2 inches
5 x 5 Stalls
Floor to top – 4 feet
Total bars – 10
Distance between bars – just under 5 inches
Bar width – 1 1/2 inches
Entire front panel opens for a gate
4 x 5 Stalls for Youth Exhibitors, Raffle Kids & Holding Pens
Floor to top – 3 feet
Total bars – 9
Distance between bars – 5 1/2 inches
Bar width – 1 inch
Entire front panel opens for a gate