Buying Raffle Tickets
The raffle held Tursday, June 30, 2022 at 4:00pm following the Colorama Sale. Winners from the 2022 raffle will be posted with the consignments below.
Rules & Disclosure | Doe Kid Details 
Raffle Rules & Disclosure Information
This raffle is being conducted by the American Dairy Goat Association. Winners were announced at the ADGA National Show being held at the Deschutes Country Fairgrounds in Redmond, Oregon following the Colorama Sale on July 12, 2019. The drawing for the raffle occurred at 12:00 noon PDT on July 12, 2019 and no tickets were sold after the drawing.
To claim your prize, you or your representative must arrange for transportation of the animal as soon as possible after the announcement of the winner. Please have your ticket purchase email with you or with your representative when claiming your prize.
Each of the nine breeds has a total number of 10,000 tickets available for purchase. Each raffle ticket costs $1.00, with a minimum purchase of five tickets ($5.00). The raffle tickets will be available for purchase online only and the winner will be randomly selected by the raffle software. The odds of winning depends on the number of tickets sold for that breed. Example: If all 10,000 Alpine Doe Kid raffle tickets are sold and you buy 5 tickets (the minimum purchase), your chance of winning the Alpine Doe Kid raffle will be one in two thousand. If fewer tickets are sold, your odds will increase accordingly.
Each doe kid in the raffle is being valued at $300.
Raffle Consignments and Breeder Information
LaMancha |  Nigerian Dwarf | Nubian | Oberhasli | Saanen | Sable | Toggenburg | Experimental
Alpine Doeling
The Alpine consignment has been withdrawn. Those who purchased Alpine raffle tickets will be refunded.
LaMancha Doeling
Meyer's MTU Wanawut – L2011608 – Born 3/17/2019
Sire: Meyer's SFCT Tuaca
Dam: Meyer's MTS Solina
Donated by: Meyer's LaManchas
59 North 100 West, Jerome, ID 83338
Gary & Greta Meyer
meyerslamanchas@msn.com
(208) 320-5338
Winner: Michelle Roeger
Nigerian Dwarf Doeling
Leisure Time ZZ Dressed2the9s  – D2026174 – Born 4/28/2019
Sire: Hetlandcreek Sharp Dressed Man
Dam: Leisure Time Sophisticated Lady
Donated by: Leisure Time Nigerian Dwarfs
13031 150th ST NE, Arlington, WA 98223
Kristine Struve-Hagan
at_leisuretime@hotmail.com
(425) 367-2639
Winner: Wendy Webster
Nubian Doeling
DKGH Rockin' The Raffle – N2023724 – 3/23/2019
Sire: DKGH Playboy's Rock It
Dam: DKGH Effect Raelynn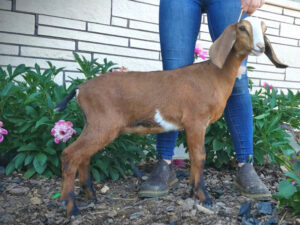 Donated by: Greenehaven Farms
1302 S Wilgus Rd, Prosser, WA 99350
Dan Green
dang410@msn.com
(509) 781-0844
Winner: Jessi Maurer
Oberhasli Doeling

The Oberhasli consignment has been withdrawn. Those who purchased Oberhasli raffle tickets will be refunded.
Saanen Doeling
Old-English Lacey – AS2026927 – 2/28/2019
Sire: Willow-Lane EB Belaire
Dam: Old-English Heidi

Donated by: Old English Saanens
3141 English Rd, Chino Hills, CA 91709
Carol Mann
mannmaid@aol.com
(951) 203-0403
Winner: Lauren Docherty
Sable Doeling
Talache's Estee – AC2022432 – 3/29/2019
Sire: Talache's Creedence
Dam: Joash PMP Emma's Essie

Donated by: Talache Dairy Goats
PO Box 963, Medical Lake, WA 99022
Shannan Lloyd
tatachegts@gmail.com
(509) 440-0293
Winner: Emily Thompson
Toggenburg Doeling
Moss-Ridge CAL's Jianna – T2017588 – Born 4/1/2019
Sire: Royal Cedars Sebastian Caliber
Dam: Moss-Ridge Tolsma Janea

Donated by: Moss-Ridge Purebred Toggenburgs
2754 Crooked Finger Rd, Scott Mills OR 97375-9640
Tracey Jones
mossridge@netzero.net
(503) 873-8512
Winner: Mary Scofield
Experimental Doeling
Liberty Ranch CE Lilo – E2030205 – Born  3/20/2019
Sire: Cadence GSA Earthling
Dam: Liberty Ranch RFF Ensemble

Donated by: Cadence Dairy Goats
PO Box 4321, Manteca CA 95337
Jennifer Lynn Tereba
jlibertyra@gmail.com
(209) 499-1090
Winner: Amy Akramoff