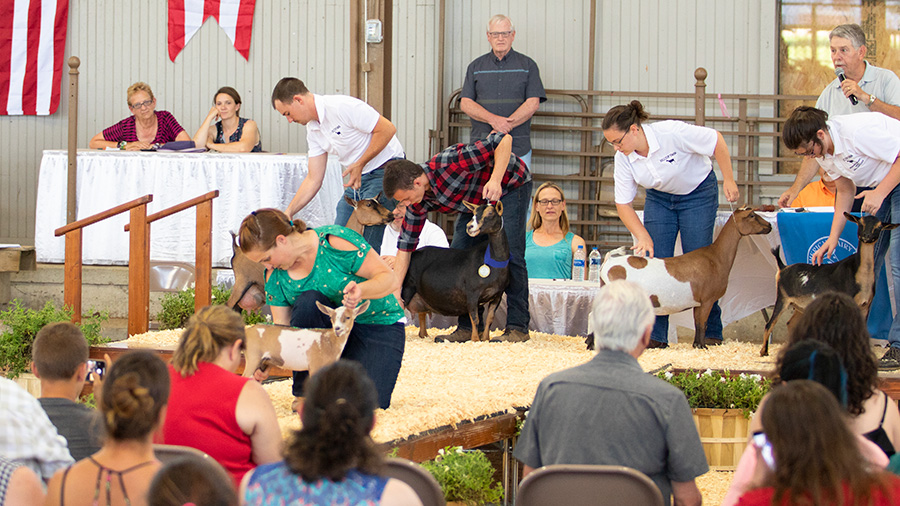 What is the Colorama Sale?
The Colorama Sale is a dairy goat auction held each year during the ADGA National Show and is an opportunity for breeders to improve their herd with high quality pedigrees and bloodlines. It is one of two annual dairy goat auctions held annually by the American Dairy Goat Association. Transportation is ideal because most potential buyers already have trailers at the National Show for other animals they are showing.
2019 Sale Date & Location
The ADGA Colorama Sale will be held on July 12, 2019 at 4:00 pm at the Deschutes Country Fairgrounds in Redmond, Oregon.
2019 Sale Nominations Open Now
You are cordially invited to submit a nomination to the Colorama Sale. The process is relatively easy, and the rewards can be a pleasant way to conclude a week of National Show activities.
Consignment Requirements
The consigned animal must :
Be shown in the open show.
Be free of all contagious diseases.
Have arrived on site with health certificate completed to meet interstate travel requirements.
Be negative for TB, brucellosis and CAE prior to the sale (testing completed prior to your arrival at the show). The animal must arrive with these tests completed prior to nomination.
Be listed on its own health certificate.
Required Promotional Material
If your animal is accepted, the committee will require pictures of relatives and the animal to be used by ADGA for promotional purposes.
Preferred Promotional Material
You would be encouraged to have a flash drive with you containing pictures of animals and relatives that may not be present at the National Show. Or, you may send them to the committee chair prior to the sale.
Information helpful for the display board would be show wins, production records, appraisal information and photos of related animals.
Consignment Selection
The animals that are to be Colorama Sale consignments will be selected prior to the start of the National Show. A schedule of selection process will be announced onsite.
QUESTIONS?
Colorama Sale Chair
Sara Koehn-Walberg
PO Box 191
Alexandria, MN 56308
(320) 763-9399
contactus@blissberry.com
Colorama Sale
 

Nomination Packet