What is the Colorama Sale?
The Colorama Sale is a dairy goat auction held each year during the ADGA National Show and is an opportunity for breeders to improve their herd with high quality pedigrees and bloodlines. It is one of two annual dairy goat auctions held annually by the American Dairy Goat Association. Transportation is ideal because most potential buyers already have trailers at the National Show for other animals they are showing.
This year's Colorama Sale was held on June 29, 2018 in Columbus, Ohio. Dennis Remsburg of Maryland was the Auctioneer. Make plans next year to choose the animal you would like to improve your herd and make a bid.
2018 Colorama Sale Results
Lot # 1 French Alpine
Animal: PJ-Baileys KT Apple Strudel – A1926568
Consignor: Patricia & John Bailey & Family
New Owner: Makayla Hardin
Price: $3,100
Lot #2 American Alpine
Animal: Western Pearl WPWA Skyfire – AA1941899
Consignor: Benjamin A. Masemore
New Owner: Greg, Gabrielle & Reagan Birr Dawn
Price: $1,250
Lot #3 LaMancha
Animal: On Holiday MS Tahiti – L1925813
Consignor: Ciera Keena
New Owner: Kimberley Balkom-Fox
Price: $1,100
Lot #4 LaMancha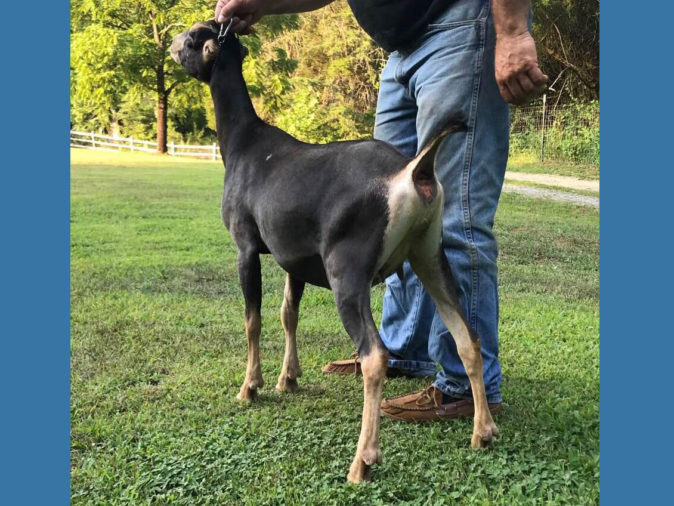 Animal: Majenli JC Karoke – L1922017
Consignor: Terri L Sines
New Owner: Nicole & Bryan Nadeau
Price: $1,200.00
Lot #5 Nigerian Dwarf
Animal: Agape's Prize Veil Of Veronica – D1939111P
Consignor: Hilltop Farms
New Owner: Kristin Ferguson
Price: $14,000
Lot #6 Nigerian Dwarf
Animal: Honey Sweetie Acres Wu Zetian – D1928173
Consignor: Regina Bauscher
New Owner: Justin Pietz
Price: $1,750.00
Lot #7 American Nubian
Animal: J&M Hideaway Midsummer's Eve – AN1925536
Consignor: Jackson Noble
New Owner: Dale, Marilyn, Tammy & Tod Stertz
Price: $2,200
Lot #8 Nubian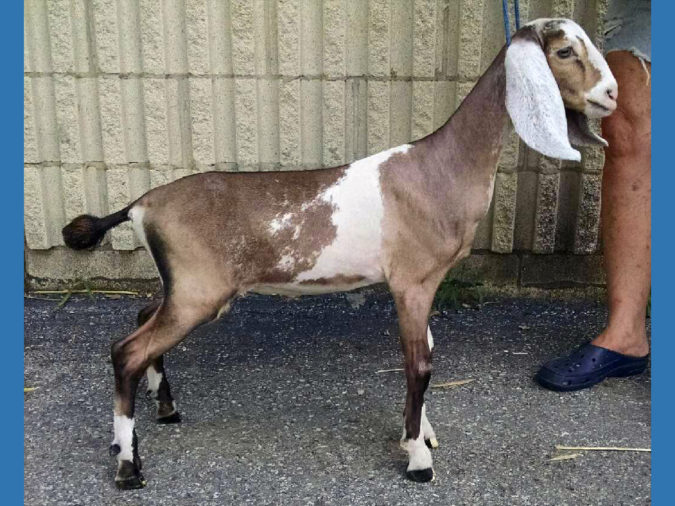 Animal: Begley's Troubled Acre Skrambl – N1949556
Consignor: Lisa, Felecia & Joshua Begley
New Owner: Dale, Marilyn, Tammy & Tod Stertz
Price: $3,100
Lot #9 American Oberhasli
Animal: Buttin' Heads Black Reign – AB1803777B
Consignor: Tom, Sue & Eric Rucker
New Owner: Silver Shadow Farm
Price: $1,050.00
Lot #10 Oberhasli
Animal: In Theory Dune – B1945631
Consignor: In Theory Farm
New Owner: Kathleen & Karly Tranchida & Kevin Hantosh Family
Price: $1,350
Lot #11 American Saanen
Animal: Tempo Passa Eveleen – AS1931309
Consignor: Lauren L. Acton, DVM
New Owner: Tiffany Blake
Price: $3,600
Lot #12 American Saanen
Animal: Vineyard View Perfect Storm – AS1950155
Consignor: Scott Michael Bice
New Owner: Jon Welker
Price: $6,300
Lot #13 Sable
Animal: Kickapoo Valley JDC Jadeberry – C1846437
Consignor: Ed Jodlowski
New Owner: Joe, Marianne & Amy Brown
Price: $1,350
Lot #14 American Toggenburg
Animal: Schmidt/ECF JKL Fancy Free – AT1940697
Consignor: Callie Schmidt
New Owner: William, Susan & Sarah Frank
Price: $2,500.00
Lot #15 Experimental
Animal: Wil-Lea ESB The Boss's Daughter – E1924934
Consignor: Charles & Willa Hancock
New Owner: Katie Wolf
Price: $900
Proxy Bidding is Available: Message the ADGA Colorama Sale chair through the ADGA Colorama Sale Facebook page.
Colorama Nomination Sale Packet