Welcome all 2019 ADGA National Show visitors!
Arrival & Vet Check | CVI Information | Entry Permit | More About Vet Check
Arrival & Vet Check
Vet Check opens at 7:00 am, Saturday, July 6.  Exhibitors are not allowed on the grounds before 7:00 am and cannot bring tack, feed or other items before that time.
When you arrive on the grounds, please follow the check-in signs and follow the access road to the right around the fairgrounds to the gate (see map). The gate will be opened at 7:00 am and you may proceed to vet check. All animals must be vet checked before being unloaded.
At vet check you will receive your vet check card which will list your barn/stall assignment. This card MUST be signed by the vet who checks your animals. The card also has your straw allocation. Once you have unloaded, please take your card to your closest straw pickup(rough location indicated by X on map). The card needs to be signed when you pick up your straw.
Once you have your straw , please bring your card, CVI and registration papers to the lobby of the event center for check in. If you don't have your green vet card we will NOT check you in so please keep track of it.
Once you have checked in you will receive your welcome bag and we can answer any questions you may have. PeeWee showmanship sign up will be handled at check in.
Green Vet Card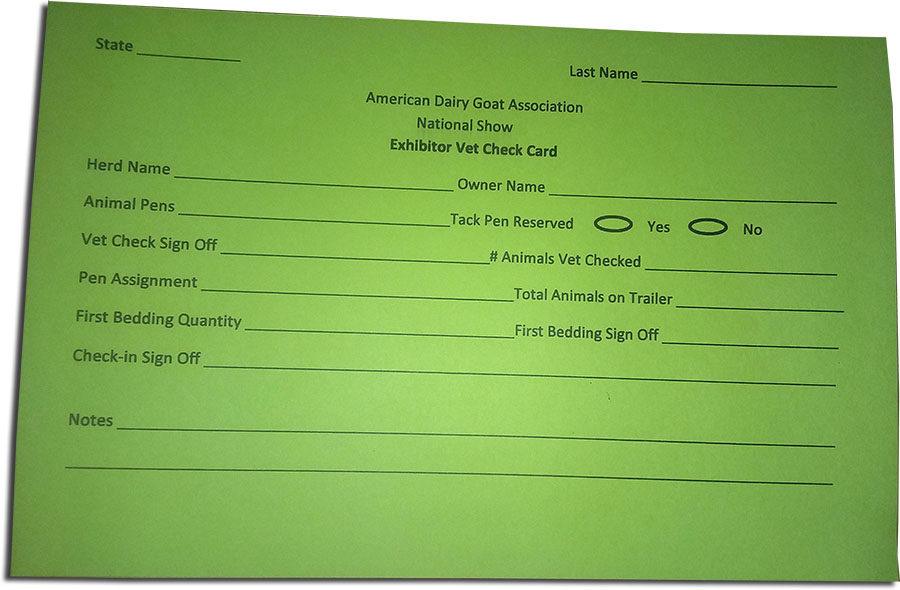 Certificate of Veterinary Inspection (CVI)
To enter Oregon the CVI is valid for 30 days. No testing is required (unless animals are to be nominated for the Colorama sale or are Doe Raffle Kids). The CVI must contain the statement 'These animals have no known exposure to scrapie'.
Please note that ALL animals must have a valid CVI, including Oregon goats. Also, the vet check on arrival will supersede the CVI, and any animals exhibiting signs of contagious or communicable disease will be refused entry.
Entry Permit Number
The Entry Permit number is necessary for anyone crossing a state line and is issued by the state's department of agriculture. It only given to the vet's office. The vet has to put it on the CVI, and it is only valid for 15 days from the date of issue. It is only necessary that the Entry Permit be valid when you enter Oregon, not necessary throughout your length of stay. The Oregon Entry Permit Number can be obtained by calling 503-986-4680 or online.
Additional Details
From your National Show Vet regarding Vet Check:
We have been receiving a lot of questions regarding the CVI and vet check requirements, so we want to clarify so that ALL exhibitors are fully aware of what will be required upon arrival at vet check.
All exhibitors must have a CVI signed by an accredited veterinarian and all CVI's must have an entry permit number if you are entering Oregon from another state.
Each animal on the CVI must be identified by: Tattoo (must be readable…no tattooing allowed on site), Registered Name, Registration Number, Age. The certificate must have a Scrapie statement AND a Premise ID. This is required of every herd attending the National Show.
If Microchip is being used as a secondary ID, in case of illegible tattoo, the 840- microchip number must be on the CVI and registration papers.
Please read what is available on this website first, but if you can't find what you're looking for, ask questions using the Contact Form